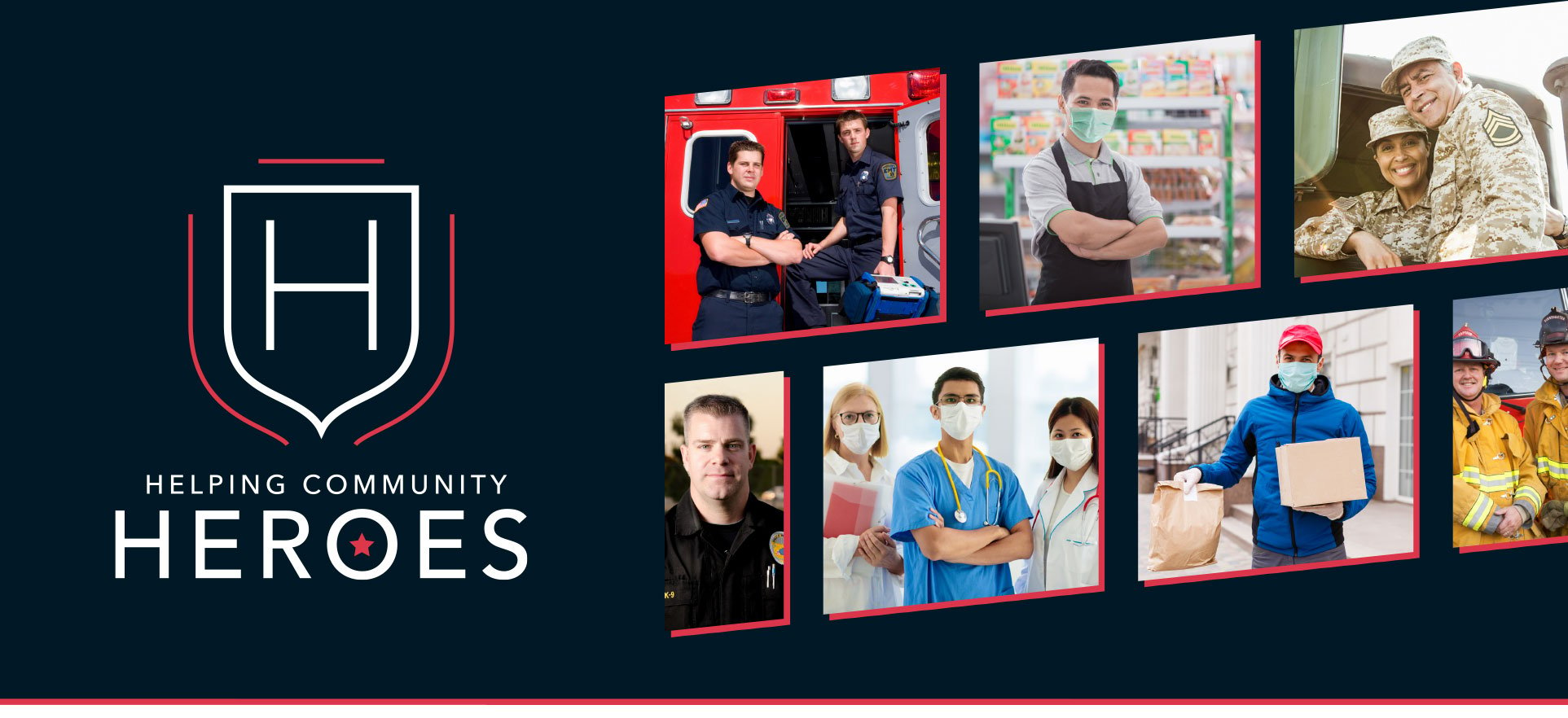 Helping you make housing more affordable
with a ¼% interest rate reduction, free.

To say "thank you" to our essential heroes we will buy down your interest rate by ¼% on your next purchase, and if you have a home to sell, we will offer you substantial SAVINGS as well.

We appreciate that amid COVID-19, First Responders, medical providers, and other essential workers have put everything on the line. To serve you in return, our First Team Family of Companies is making it possible for qualified heroes to take advantage of up to tens of thousands of dollars in SAVINGS when we pay for you to buy down, and reduce your interest rate by ¼% for your mortgage financing for up to 30 years.

Here are the
Possible SAVINGS Examples:*
30-Year Fully Amortized Fixed-Rate Mortgage
with

¼%

Interest Rate Buy Down:

---
$34,278

SAVINGS

on $700,000 Loan Amount
$29,381

SAVINGS

on $600,000 Loan Amount
$24,484

SAVINGS

on $500,000 Loan Amount
$19,587

SAVINGS

on $400,000 Loan Amount

Since 2017, First Team has offered a similar savings program to military households and has been recognized as the #1 contributor to this program nationwide by Leading Real Estate Companies of the World®, the largest network of independent brokerage firms in the U.S.
Take advantage of this program to have us buy down your interest OR apply your substantial SAVINGS directly toward closing costs.
Save TWICE when you buy and sell a home through this limited-time offer.
We thank you for allowing us to stay safe at home.
Now trust us with yours.
For more information on taking advantage of this limited-time offer, contact me.

First Team® Real Estate
Founded in 1976 in Orange County, First Team has been trusted by 250,000 Southern California households for real estate sales and purchases. As a local family-owned business, we are big enough to have the resources and small enough to care.
Homeowners First Mortgage
Homeowners First Mortgage offers hundreds of loan choices to our customers, with our strength rooted in the knowledge and experience of our loan officers. Many of our loan officers have been in the industry for decades and have successfully handled all types of home buying situations. Our team is experienced, professional, and readily available to our customers to answer any questions, address issues, and help them navigate through the mortgage process smoothly.

*Offer provided by First Team Real Estate and may be withdrawn at any time, with or without notice. Offer subject to cooperation of independent brokerage and agent members of the MLS on co-op transactions and consumer's use of First Team Real Estate's affiliate, Homeowners First Mortgage, LLC for financing. Maximum loan amounts apply. Discounts and saving promoted here are estimates only as of 05/6/2021, are based on a market interest rate of 3.25%, and do not bind First Team Real Estate or any of our affiliates. By way of example, a home with a purchase price of $1,000,000 with $700,000 financed at 3.25% / 3.277% APR and borrower-paid closing costs of $2,400 would result in $34,278 in interest savings over a 30-year term. First Team Family of Companies consists of essential services of escrow settlement, title insurance, real estate brokerage, and mortgage finance services. You are advised to seek your own counsel from your accountant or legal advisor. 108 Pacifica, Irvine, CA 92618. Lic# 01008773. © First Team® Real Estate. All rights reserved. This is not intended to solicit a listed property. If your property is currently listed for sale with a broker, please disregard. Financing provided by Homeowners First Mortgage, LLC, 108 Pacifica, Suite 250, Irvine, CA 92618. Corp NMLS#: 1932549 (www.nmlsconsumeraccess.org). Loans made or arranged pursuant to a California Finance Lenders Law license. This communication does not constitute a commitment to lend or the guarantee of a specified interest rate. All loan programs and availability of cash proceeds are subject to credit, underwriting and property approval. Programs, rates, terms and conditions are subject to change without notice. Other restrictions apply.
Testimonials
" Mahesh Patel did a wonderful job of listing, pricing and selling my house. It sold within ten days of being listed to a preapproved buyer so no time was lost. "
- Rich
" The most important fact for me and my wife is to have an agent that who is knowledgeable and have a good skill of communication, Mr. Patel was very helpful to process our rental issue, he was always available and it made the transition smooth and easy, I will refer him as an honest and knowledgeable agent. "
- Anonymous
" Mike Patel is a truly extraordinary real estate professional. I have worked with several agents in the past and was relieved to discover his depth of experience, patience, expansive understanding of the industry, great follow through and friendly personality. He knows Orange County very well, which helped us zero in on target areas for our needs and not waste time on other areas. We came to him with a 1031 exchange and a looming deadline and he handled it with grace and persistance. We had lots of questions and I really liked how comprehensively Mike explains things. He uses great analogies and always stays focused on what's most important. One thing I especially liked about Mike is how fast his response time was after each call, text or email. We will definitely use Mike in the future!! Brenda Weimer August 2012 "
-
" Mike provided very knowledgeable information on the current market and is always able to provide good advice on what options are available at the right time. He was able to provide really good advice at every step of the selling process. "
- Estrella
" I want to thank Mike and strongly recommend him as an excellent and attentive realtor. Mike sold my home after it had been on the market 3 separate times. It was rented which made showings difficult, but Mike made it work, structured times for showings and brought home the victory!! I can't thank him enough for his professionalism, skill, effort and determination. Best wishes, "
- Cindy Bea
" Mahesh is very professional and extremely hardworking. He took the time to understand what we wanted, and was able to help us find a house that fit our needs wants, and most importantly our budget. Mahesh was there for us throughout the entire process, always making sure everything went as smoothly as possible. I highly recommend him, and will definitely use him again if I ever purchase another home. S Akotia and Pooja Glenwood st, Fullerton Buyers "
-
" http://mikepatel.com/reviews/ "
-
" Extremely professional through the entire process. His extensive knowledge of the area helped paint a picture of our community which made us more comfortable with moving to a previously unknown area. Mr. Patel took so much stress off our shoulders and met our needs and exceeded our expectations. Ray And Cecil Garcia Anaheim Hills CA "
-
" My experienced dealing with Mr. Patel in buying home is really good, great moment doing business with him. He is very professional, very helpful to get the job done nice and easy, knowledgeable on his profession, great personalities, I will highly recommended him for any future business matters. I don't know how We tell him, we really appreciate what a great job, help he gave to us. Thank you! Mr. Mike Patel. God Bless you "
- Perry Palma
" Mike is the best Realtor I have ever worked with! He is very knowledgable, professional, and sincere in making the home buying process as stress-less as possible! Mike was prompt, followed up with emails and calls quickly and was always available to answer any questions I had. I will be recommending Mike Patel to anyone who is buying or selling their home! Great Experience! Great Realtor! "
- Barbara Mcdaniel
" Mike was knowledgeable, extremely professional and helped sell our house. We would recommend to an homeowner looking to sell their home. He gave us advise in how to make our home more attractive by finding a stager and cleaning crew . "
- Florence and Chang Lee
" Being a single mom, Mahesh had his work cut out for him. He had to work very hard at finding me a house that I could afford. He never gave up even when I almost did. Thank you so very much!! Anaheim Ca Laura Hartley "
-
" Mahesh is very knowledgeable about the market and what is going on in the area. So when he listed the house for us we got tenants within a week or so of listing. I would recommend him in a heartbeat. "
- Chirag P
" Mahesh/Mike has recently helped me and my friends sign a lease a house in Anaheim. I came by to view the house on a weekend and Mike answered all the questions we had regarding the house. He was very professional and was very prompt and quick in responding to emails. We had two to three weeks to find a house before my previous lease ended and thanks to Mike, we were able to meet this deadline! The lease was signed within a week and a half from the date I viewed the house and we moved in that same weekend after the lease was signed. I highly recommend Mike if you're planning to lease or sell a house! Thank you Mike! "
- Nanci
" Mike was not only very helpful and professional in negotiating our lease agreement but he has stayed very involved even after we moved in helping us work through several issues with our residence. He has facilitated repairs, overseen those repairs and has acted as an honest broker between us and the landlords even now 5 months after we moved in. February 2013. Peter and Ellen Kim "
-
" Mahesh (Mike) did a great job and was helpful and responsive thru the entire process. He was able to offer many suggestions on how to prepare the property for "open house". My home sold within 7 days and we closed escrow in 30 days. Mike was always available to answer questions and even offered to help move furniture to prepare for the open house. He was also very knowledgeable with local building codes and preparing the house for inspection. "
- Mike
" Professional, thorough, and always fighting for your best interests. It was a pleasure to work with Mike and I will continue using him for all of my residential broker needs. He not only understands his side, but also understands the buyers needs, and executes both sides of the deal for you. If it was not for him, I would have not gotten a deal that I chased for 3 months. Thank you Mike! Patel Family Anaheim Hills "
-
" "Excellent knowledge of real estate business. He helped me negotiate the price for a lot in Yorba Linda. He is a good listener and very fast responsive to my requests." "
- Hardial G
" This is the 2nd time we have used Mike's services. He listed the properties very fairly and they sold as listed or more. He handled the escrows very well and recommended service companies when repairs were needed. "
- O.C.
" I've been doing business with Mike for the past fifteen years. I've used mike for buying and selling my homes, I've also recommended him to my family members. He always keeps me updated every step of the way. Mike is a very knowledgeable in the real estate business and professional. I highly recommend everyone to do business with him. My experience with him has been excellent. "
- Pitts
" Mike Patel is a very knowledgebale agent. He helped me and my family buy a home in Yorba Linda. He showed us homes that fit our criteria with best avaliable homes in the target area. He spent extra time in showing us the homes that fit our criteria. At our request he showed us the homes that we wanted to see even if they didnot fit our original criteria. He did research on the property before showing it to us, thus he was able to answer questions regarding the house that we were looking at. Once we liked the home, he helped us in making the offer and advised us on the best possible way to negotiate with the buyer. After the acceptance, he helped us step by step to fill out the paperwork to closing the escrow. THanks to Mike Patel, we are proud owners of our house. THanks Mike Patel. Kam and Hema Yorba Linda Buyers "
-
" We received excellent service from Mahesh Mike Patel. He was fast and really helpful in complete renting process. Our property got rent out within one weekend. It was great experience to work with Mike, i will always recommend Mike for your real estate. "
- Sunil
" I can't say enough great things about Mike! My family with 3 small children relocated from Northern California and I did a lot of web research comparing school districts, market trends, and real estate brokers' reviews. I decided on Mike because he had great reviews, covered a large geographic area, was very responsive, and could relate to my needs from the very first phone call. We met the same day and he came prepared with comparable home listings in the area, projections about costs, market information, and suggested listings and prices for homes that met my requirements. I felt that I had found an agent who was competent, knowledgable, and one who would work to find me a great house for my family… I was right! Mike was very patient and with me as we looked at about a dozen prospective homes until finally we found a home that met all of my criteria; we jumped on it, negotiated a great deal given the rising market at the time. He has a great network of fellow brokers as well as lenders and made the buying and financing parts as smooth as possible even though I ran into a late-in-the-process "glitch" with financing; he worked with the sellers and smoothed things over in out mutual interests to keep the deal rolling. I am very pleased that Mike was patient and accommodating in finding a home that met my needs then setting my expectations about the process of the purchase. It was a pleasure working with him and easier than I anticipated and I have no reservations about highly recommending Mike and will look to work with him again in the future! "
- Sanjay
" Mahesh Patel was very aggressive... He didn't give up very easily! He did good job...He sold my house to the viewer of my neighbor's which had an open house same day with mine. I highly recommend him to everyone in the future. "
- Oakley
" Mike did a great job. He stayed on top of it until the final close of Escrow. I was very impressed how handled all the details. Once Mike was involved, all I had to do was sign the paper work and wait for the check "
- Guy Gandenberger
" My previous listing had expired. After many interviews, I decided that Mike was the best candidate to list my home. Mike was very professional at all times. He followed through and always did exactly what he said he would do. Mike is an excellent communicator and responds to all concerns in a timely manner. The entire process of selling my property was well managed and smooth. "
- Stormy
" It was a pleasure working with Mike Patel on the Calusa transaction. He is professional and works hard to meet the requirments of his buyer. Mike was very supportive throughout the transaction and is a great team player. He was on top of the transaction and worked very hard to get the best for his client. I look forward to working wioht Mike in the future. He is professional, hardworking, and diligent with his files. Thank you for giving me the opportunity to work with you!less November 18, 2011, Denise Garcia, Mortgage Specialist Platinum Mortgage "
-
" To Mike Patel's Superior: I am taking this opportunity to comment on teh professional manner of your associate Mr. Patel. He had kept in contact with me by phone for a matter of time at least once a month asking me about the condition of my wife's illness which is one of the main reasons I decided to put my house on the market. Once I did, Mike came over my house and advised me what to expect. Everything went just about the way he had explained. The house sold in a matter of days and I was actually surprised of the quickness of the sale of my house. My wife and I were totally happy with the results. I just wanted to inform your company what an asset Mr. Patel is to your Real Estate business. Many thanks. Rudy and Karol Arriaga Home Seller, Anaheim Ca "
-
" Since I had never purchased a home I had no idea how it worked. Before I began searching, Mahesh was able sit down with me and explain what it would be like, and if I was prepared for the whole process. When we found the home we wanted, Mike was quick to act and very responsive to any questions. I could reach him by phone and email. When we were getting the deal done, he explained the process even more so I wouldn't be left in the dark. I will surely be using Mike again if I have to buy another house. Luis and Lisa Martinez Poppy Dr, Tustin Buyers "
-
" Mike assisted my mother on the sale of her previous residence and the purchase of her new home. I was blown away by how fast he acted once he got the listing. It was literally the weekend before Christmas Eve and raining. He held an open house. My mother and I were convinced know one would show up and it would be a waste of time. To our surprise he had an offer to us the following Monday. Not just any offer, a well qualified buyer with FULL asking price! Mike always answered his phone and if he couldn't he would shoot us a text message telling us when he could call back. He has a great network of people too! This is huge in the business! He knows all the right people from appraisers to inspectors. He works with an excellent Escrow company too. Everyone showed up when they said they would and all were very professional. If you need to sell your house FAST or need to close QUICK on a new purchase MIKE PATEL is your man!!!!! "
- Anon
" Mike was great. He knew the market and comps very well. He was always professional and worked very hard to make sure we understood what was happening with out sale, and that everything closed on time. I would definitely use him again and will recommend him to all my friends and family. "
- S. G.
" We met Mike through a family member. We had missed a couple of sales on our own. So we found Mike and he sent us updates every week on the property we were looking for. We found one, asked for Mikes opinion on the property and he approved. So we inspected it and submitted a bid on it that day. And because our loan had been authorized by Jay and the amount was accepted we were able to get it. Mike was present was the bid was submitted. He found the appraiser and inspector. And he kept us updated on the whole process either by email or phone. Mike made sure all repairs agreed on were done. He told us the papers were ready and inspected and all we had to do was go down to escrow give them the down payment and he made sure everything we agreed on was in order. "
- Walker
" Mike was very helpful in getting my home sold.  We were in constant communication on any potential buyers.  I would highly recommend him to anyone who is wanting to sell their property. James Tokorokazi Orange, CA October 2012 "
-
" Mike Patel wa my Real Estate Agent for the purchase of my home. He was very thorough and attentive to all the details of the purchase. He was responsive to my questions and followed up on all the details. I would recommend Mike Patel to anyone in the market for a home. Maira Lynch Union Bank. Cypress Ca "
-
" As the VP of Sales for Prudential California Realty, over 850 agents, I can honestly say that Mike is one of the "stand out" leaders in our firm. His commitment to his clients combined with his extensive experience in the Real Estate industry makes him an excellent choice for anyone venturing into the decision to buy or sell property in todays marketplace. I am very proud to have him representing the Prudential experience Brad Pearson Manager and VP, Prudential CA Realty "
-
" Mahesh did a great job, had interest in the property even before it was listed. I had an offer during the first showing, and Mahesh got the buyer to revise the offer to full ask, which resulted in a sale. Mahesh kept in communicate throughout the process, which was important to me as I am out of state. He took care of the property made sure it was setup for showing and accessible to agents. The whole experience was simple and convenient." "
- Chiggs P
" Mike was very helpful in getting my home sold. We were in constant communication on any potential buyers. I would highly recommend him to anyone who is wanting to sell their property. John Bisell Santa Anita St, Orange Buyers "
-
" Mike did a great job. He stayed on top of it until the final close of Escrow. I was very impressed how he handled all the details. Once Mike was involved, all I had to do was sign the paper work and wait for the check. "
- Gandenberg
" Rented a house with the help of Mr. Patel. He was very efficient and quick at responding and answering any questions I may have had. Love my new home! "
- Zuser
" Mahesh is a true professional, kind and thorough! He took the time to help explain everything in full detail, showed that he really cared about the interests of the client. He was very informed of local knowledge, and had plenty of thoughts and recommendations to offer. Felt very comfortable and trustworthy, would recommend his services to anyone! "
- S.M.
" Mike is as good and efficient as they come when it comes to expedient and reliable purchase or sale process. Just sold my house on Teal Ave in Orange, CA thru him. Mike had it sold within a week and evrything wrapped on schedule. I was so impressed with process I elected him to represent me even on my next purchase although it quite farther than his base in OC area. Of course he delivered again securing the exact house I wanted nudging out multiple offers with being quick, diligent and transparent with the offer and communication. Thank you, Mike "
- V Pravin
" Mr. Patel is an excellent R/E agent. He just helped me to sell my property in Orange county (California) in only a few weeks. He has knowledge with the market and very responsive . I am happy with his service. Phung Le and S Dang "
- Phung Le
" As a first time buyer, Mike helped me understand the process, the area I was looking in, and find a home that both fit my preferences and budget. He came to our first meeting with a list of homes and helped me get a handle on the market by taking me to a few different neighborhoods. "
- R Puvaada
" Working with Mahesh was amazing. He was very efficient, knowledgeable, and easy to work with. You can tell he has a lot of experience in this field because he handled our situation with ease (which I thought would be difficult). Me and my husband are first time renters and with Mahesh's help, we were able to find ourselves the perfect HOME. I would definitely recommend Mike to our family & friends. Thank YOU!!!! "
- Yasna
" Mike walked me and my fiancee through the whole home buying process and was always available to answer our questions and concerns. He took us to a number of homes and was able to give us a straightforward and honest assessment of each property. He provided daily updates throughout the escrow process and was always willing to meet with me on my schedule, even when it might have been inconvenient to do so. I highly recommend him as your next realtor. Oliver Xmundo and Ruth Gagolinan Chataeu ST, Anaheim Home Buyers "
-
" Mr. Patel is an excellent R/E agent. He just helped me to sell my property in Orange county (California) in only a few weeks. He has knowledge with the market and very responsive . I am happy with his service. Phung Le and Sa Dang "
- Phung Le
" Mike Patel was extremely professional, prompt and took initiative to close the deal. He knew when there was a sense of urgency but didn't force us to make any decisions we didn't want to. He was very knowledgeable about the area, the houses in that community and the process of closing escrow including where we could get credits and where we could not. We would highly recommend him. "
- Hiral and Samina Patel
" Mahesh was very good to work with. He was patient throughout the entire process for our new home purchase, and continuously worked to ensure that our needs were met. We will definitely be using him in the future, and will recommend him to our friends. Gilda and Amir "
-
" Mike was easy to communicate with and he followed up with us regularly. Best of all, he got the price we wanted for the house. I would recommend his services to anyone. Anaheim Ca "
- Mike Weeks
" We are first time buyers and were guided the whole way through this crazy process with such care and professionalism. We are so new to all this and are small beans but she never made us feel this way. Mike understood the importance of getting us our first house and followed up on ALL angles possible to ensure that we would be able to attain our new home. He not only got us our dream home, but he made the process seem like a piece of cake. He kept us informed, educated us on the process, and continues to follow up with us. I can't thank him enough. I agree with everyone else who has given Mike Patel five stars. He gives 110%. He is all about integrity and excellence. Extremely detailed and patient and on top of all this, he is such a kind soul. I really can't imagine getting any better service than this. If you want to be part of a winning team, you can with Mike. "
- N.J.
" Mike Patel represented both sides (buyer & seller) on our home purchase. From the moment we stepped inside the open house, we knew this would be an amazing home for our family. We went directly to him to purchase. He was knowledgeable and experienced in doing what was fair & best for both sides. Based on the purchase history, current market, and $ per square foot - we were very happy with our purchase price for the neighborhood and the size of home/lot/view. Thank you very much Mike. "
- C
" We know Mr Patel for over 15 years. He has been very efficient in 1. Selling our home 2. Purchasing a new property 3. Finding us tenants for a rental property He is an excellent negotiator, does a lot of research, no task is too small for him and always watches our backs. "
- Kalps M
" The decision to purchase your 1st house/condo can be a daunting task as soon as you begin your search. First, you probably start reading and looking online and some of the real estate jargon may be enough to dismay you, and soon you begin to wonder if renting is the way to go. Me and my girlfriend had been looking specifically in the Yorba Linda area for over a year for the right place to match the right price. While we were fortunate to have time on our side we eventually found what we considered our "perfect" place. Location, price, size.. it was everything we had been searching for. With Mike Patel taking charge we ended up purchasing our condo on the 1st offer (in a matter of days we opened escrow). Mike stepped up, made the deal happen and a month later we were in our new condo, and couldn't be happier! Every step of the way, any questions or concerns we had, Mike was there for us.. quickly responding to us via text/email/phone calls. He makes you feel comfortable and is so knowledgeable it almost, at times felt like a breeze (and not the daunting challenge) you imagine in your mind. I would highly recommend him to anybody looking in Orange County.. definitely any 1st time buyers. Mike genuinely cares about his clients, he still checks up on us to see how everything's going/if there's anything else he could do for us (as if he didn't already do enough). He truly lives up to motto in that when you "call him, you can consider it done"! "
- A
" He did a great job. I was never concerned about anything as he makes sure he has everything covered. He also gets back to you in a very timely manner "
- Dr. Dorothy O'Neill
" Mahesh is very well versed with the local market. He helped us target the right price based on the prevailing market condition. He also helped us in negotiations with the buyer. He was able to use his expertise in helping us through all the formalities. I recommed his services to anyone trying to sell property in anaheim Hills Moiz and Shirin Beguwala Kentucky Ave, Anaheim Hills Sellers "
-
" I sent Mike two properties by email. He picked me and my wife up and we looked at 15. He showed us how to get more bang for our buck by looking at square footage. Saved us lots of time and driving around. We ended up with a great home for our family, and even after closing Mike is still checking up on us. I recomend Mahesh Patel for any and all realistate transactions. Ray and Mel Bracamontes Calusa St, Whittier CA Buyer "
-
" Mike helped us with a bank owned property. We have been looking for a long time and he was extremely patient during the process. He was great at communicating with us during the process and help us get a great deal on the house. A and R Patel Anaheim Hills Ca Buyers "
-
" I decided to use First Team services and Mike Patel after I was referred to him by a Friend. Honestly very impressed by the service and responsiveness.. Above all the immediacy of getting my place rented. I was able to do so within matter of week. Will Definelty recommend and utilize him in future. "
- Anonymous
" "I've used Mike Patel twice.. to purchase and most recently sell my property. Both experiences couldn't have gone smoother! When I listed my place for sale I met with Mike and let him know the circumstances and criteria, and then he took it from from there.. above and beyond I'll add, less than 2 months after meeting with him to to discuss listing, I had closed escrow! Most people get stressed out when selling/moving but because of the trust I had in Mike from the 1st time using him, my confidence never wavered that he'd get the job done. Mike works tirelessly for his clients, and just as important... listens, in addition to offering input/suggestions and keeping you informed every step of the way, I'll end with that if you're considering buying or selling and/or are new or experienced to real estate, Mike can get the job done!" Shaun Salas Yorba Linda, CA 92887 "
- Shaun Salas
" Mike is very professional and knowledgeable. He is very prompt in communicating in person, via email or by phone. He is a delight to work with. Advised me on selling my house. Bhi Pat "
- Bhihku Pat
" We had another realtor that was highly respected try to sell our house during the busiest selling season with no success. Mike listed our house during the off-season and found a buyer quickly. Through the negotiation phase until closing, Mike kept us informed and was always accessible. Mike has a strong work ethic and does not wait for things to happen, he makes them happen. I would not hesitate to use him again. "
- William
" "I've bought 2 homes from Mike & helped with finding an excellent tenant for one of the property. Great service, proactive, always returns calls/text messages. He'll be my agent when I am ready for 3rd property." "
- Dave, H
Previous
Next